2022: New Year, Sharper Focus
Posted by High Energy Transport on 10 January 2022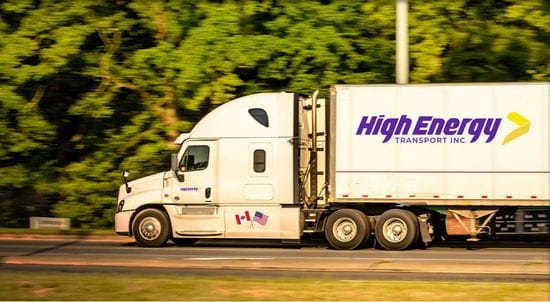 The pandemic has definitely taught us that we need to be adaptable and flexible – pivoting as required - in order to be resilient and survive in a challenging business environment. For 2022, High Energy Transport is consolidating our efforts on doing what we do best: delivering large, oversized and bulky items for retailers and manufacturers.
Delivering Online Orders for Your Business
It would be an understatement to say that online ordering and deliveries have increased over the past 2 years, and not just for food or retail items like clothing, electronics and home furnishings, but also for large ticket items such as the latest 75" 8K Ultra HD TVs, washers, dryers and furniture.
Getting these oversized or heavy items to consumers has always been a challenge, and that's why High Energy Transport has built its business around delivering these bulky purchases for retailers like Best Buy, Wal-Mart, Wayfair and Amazon amongst others.
Final Mile Deliveries
We specialize in heavyweight and oversized shipments that others can't easily deliver. Whether you are a Third Party Logistics (3PL) organization or a manufacturer that needs to ship directly to your clients, please rest assured that your shipments are in good hands.
We have a 24-hour sorting facility in the Greater Toronto Area and can get your shipment out for delivery the very next day on most days.
Are you a home appliance retail store?
Are you a TV or Home Theater manufacturer?
Do you sell or make furniture?
Do you make or sell the latest in home fitness equipment?
We are here for you.
Check out our Final Mile Deliveries page or contact us for a free quote.
Storage & Warehousing
Are you running out of space in your warehouse? Are you wondering how to store your inventory?
We got you covered.
Our heated warehouse is accessible 24 hours a day; it can accommodate standard and oversized skids; and is centrally located in the Greater Toronto area close to the major Highways – 400, 407, 427, 401, 410, 403 – and Toronto Pearson International Airport.
Check out our Storage & Warehousing page or contact us for a free quote.
White Glove Service
Our team members are ready to deliver your products to your customer for you. We can receive your products at our warehouse in The Greater Toronto Area, arrange a delivery time, deliver, unpack, assemble as well as remove and dispose of all packaging material.
We know we are an extension of your company and we want your customers to come back to you for future purchases. We take every step necessary to make certain it happens.
We got this.
We guarantee your customers will be left with a smile and give you a big thumbs up.
Check out our White Glove Service page or contact us for a free quote.
Contact Us for Your Final Mile Delivery Needs
At High Energy Transport Inc., we treat and value every single customer as if they were our very first client, which is why we are rated so highly with not only with our customers but with our entire teams and partners as well.
We are here and willing to help you any way we can, just call us today!
Contact Us for a Quote

Author:
High Energy Transport
About: At High Energy Transport Inc. we treat and value every single customer as if they were our very first client. With over 40 years of experience within the transportation industry you can rest assured that High Energy Transport Inc. will provide you with exceptional service. Always. Whether you are looking for final mile delivery services, storage and warehousing, white glove services, or commercial moving and installation services, you have come to the right place. What separates us from others is how we communicate with our customers transparently and proactively to best serve you. We train and communicate with our team members with the same transparency. Let us handle your delivery, storage and commercial moving needs; contact us today!
Connect via:
LinkedIn