How Retailers Should Deliver Fire Tables to their Customers
Posted by High Energy Transport on 2 August 2023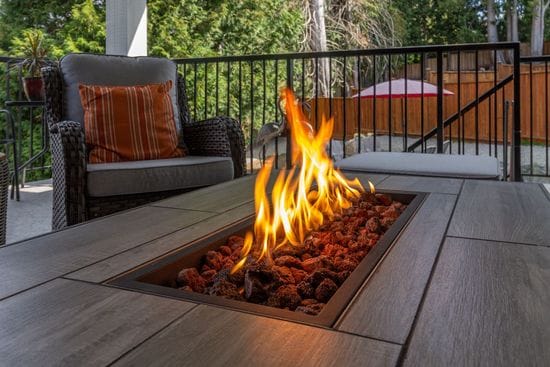 There's something special about people gathering around a fire, swapping stories, sharing food and drink. The world seems to stop for an hour or two and everything seems peaceful. This brings back warm memories of childhood campfires by the lake, and it's also a connection to our distant past where our ancestors gathered around the fire for warmth and for sharing as well.
Today, not everyone lives around a lake or has a lakeside cottage, but you can still get that campfire feeling with your very own fire table on your deck, or with a fire pit in your backyard. One small heads up: S'mores are not recommended for gas fire tables!!
The Fire Table Market is Growing
Canadians have been on a shopping spree for fire tables, fire pits and outdoor heat lamps since the pandemic. The Canadian outdoor furniture market size is estimated at US$1.3bn in 2023 with a compound annual growth of 4.4% through 2027 according to research firm Statista, so there are a lot of sales growth opportunities for retailers and manufacturers alike.
Delivery Challenges Retailers Face When Shipping Fire Tables to their Customers
Customers wants a turnkey solution: they want the retailer to deliver a pre-assembled fire table or fire pit, install it, hook it up to the gas line, test it and voila! A few customers might enjoy the challenge of assembling their fire tables themselves – probably the same customers that will spend a day assembling their BBQ – but for the most part most of us want a plug and play service.
Retailers have indeed been shipping fully assembled and ready to go fire tables; however the delivery business model is less than ideal. Here are some of the challenges retailers face.
One at a Time Deliveries
Service trucks tend not to be too big and can typically handle one or two fully assembled fire tables or fire pits at a time. This means that your installation crew has to keep driving back to your facility to pick up the next order, costing you time, money and gas, not to mention customer delays.
Better Solution: Look for a reliable transportation partner that can pick up multiple orders at your facility and drop ship them to your customers' locations before your crew shows up. Let your installation crew do what they do best: servicing your customer!
Need 2 Staff to Deliver
Fire tables may not be that heavy, but they are bulky and can be a bit cumbersome, and that means you need 2 people to deliver 1 unit. One staff has to wait while the other performs the installation: wasted time that's costing you money.
Better Solution: By drop shipping the units through a dependable transportation partner, you only need to dispatch 1 employee to a customer's location, not 2.
Inventory Space may be Wasted
Unboxing and assembling fire tables at your facility requires quite a bit of space that could be better utilized for other purposes, and having units lying around in a partly finished assembly state may present health hazards to employees.
Better Solution: Let a trustworthy transportation partner offload your assembled inventory for you and deliver directly to your customer's location. Save your space for more inventory you can sell.
Your Reliable Transportation & Warehousing Partner: High Energy Transport Inc.
Drop shipping is something we do regularly for our clients; it's made a big difference on their profitability and it can help yours as well.
We have a ton of experience with shipping bulky items like gazebos,hot tubs, and outdoor furniture . Many retailers and wholesalers have trusted us with their customer deliveries for many years – contact us and let's see what we can do for you.
We treat and value every single customer as if they were our very first client.
We are here and willing to help you and your business in any way we can; please rest assured that your shipments are in good hands with us. Please contact us for a quote.

Author:
High Energy Transport
About: At High Energy Transport Inc. we treat and value every single customer as if they were our very first client. With over 40 years of experience within the transportation industry you can rest assured that High Energy Transport Inc. will provide you with exceptional service. Always. Whether you are looking for final mile delivery services, white glove services, commercial moving and installation services, storage and warehousing or residential local and long distance moving, you have come to the right place. What separates us from others is how we communicate with our customers transparently and proactively to best serve you. We train and communicate with our team members with the same transparency. Let us handle your moving, delivery and storage needs, and discover Moving Done Right.
Connect via:
LinkedIn