Cutting Edge Delivery Methods for Table Saws
Posted by High Energy Transport on 6 September 2023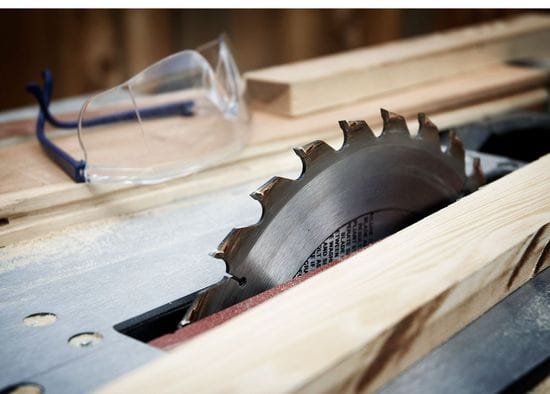 Summer's almost over, and renovation work that was happening outside like decks and fencing, will start moving to inside the home with things like upgrading the kitchen, replacing hardwood floors and finishing basements for in-laws or potential rental opportunities.
That good ol' table saw that was cutting up deck boards all summer long may be getting long in the tooth (saw pun intended!), and it may be time to replace it. Retailers want to get those new tables to their customers as quickly and efficiently as possible.
The Table Saw Market is expected to grow in Canada
The global market for table saws was estimated at US$ 617M in 2022, and is projected to increase at a CAGR of 4.3% from 2023 to 2031, according to Transparency Market research Inc. North America represents a significant portion of those sales, and Canada a hotbed of new construction and home renovations.
Table Saws Are Not Easy To Deliver To Retail Stores or to Customers
Let's face it: table saws are not meant to be easily mobile like circular saws or power drills. This means there are a number of challenges when trying to fulfill customer orders for table saws:
Table saws are big and heavy
Table saws are not easily handled by conveyor belts
Table saws take up a lot of space in a warehouse
Table saws may require 2 staff to deliver to a customer location
Logistics Challenges for Table Saw Shipments
In a typical supply chain scenario, the table saws go from the manufacturer to a distribution center (first mile); then from the distribution center to a fulfillment facility (second mile or middle mile); and then finally from that location to either a retail store or to the customer (last mile).
Each of these steps must deal with the fact that table saws are large and bulky items that are not easily handled by conventional shipping methods. Different logistics companies are hired to fulfill a portion of the trip, and you need to make sure the staff is properly trained to handle such heavyweight equipment. Multiple touch points and transit points means delay in delivery, and customers are highly demanding when it comes to delivery times.
Challenge #1: Is your logistics company specialized in bulky and overweight items, and does it have the expert staff trained to handle these types of products?
Pro Tip #1: High Energy Transport is specialized in heavy bulky items that need special handling.
Challenge #2: Can handle your transportation provider handle first mile, middle mile and last mile delivery for you?
Pro Tip #2: High Energy Transport has built its reputation in last mile delivery over the past 7 years, and has leveraged that expertise into middle mile and first mile shipping. We can help you save time, money and headaches, and increase your customers' satisfaction with fast deliveries.
Challenge #3: Does your logistics partner have warehousing facilities in your key markets, and can they easily access overseas shipments?
Pro Tip #3: High Energy Transport has warehouses in the Greater Toronto Area and in Cornwall, ON. We offer destuffing, warehousing, cross-docking and shipping services to our clients, and can even pick up your overseas shipments at the Port of Montreal. We have daily hauls between Cornwall and Toronto, so we can quickly and effectively service our clients.
Challenge #4: Can your transportation provider cover your whole market area?
ProTip #4: High Energy Transport covers the whole of Canada with its network of trusted partners, so we can handle any part of your business quickly and efficiently.
Cut Your Costs and Increase your Profits with Your Reliable Logistics Partner: High Energy Transport Inc.
Choosing a logistics partner that has the experience in delivering big and bulky items will make a world of difference for your business. It's not just table saws but also fire tables, BBQ grills and mattresses amongst many other things.
Retailers, wholesalers and service providers have trusted us with their customer deliveries for many years - contact us and let's see what we can do for you.
We treat and value every single customer as if they were our very first client.
We are here and willing to help you and your business in any way we can; please rest assured that your shipments are in good hands with us. Please contact us for a quote.

Author:
High Energy Transport
About: At High Energy Transport Inc. we treat and value every single customer as if they were our very first client. With over 40 years of experience within the transportation industry you can rest assured that High Energy Transport Inc. will provide you with exceptional service. Always. Whether you are looking for final mile delivery services, white glove services, commercial moving and installation services, storage and warehousing or residential local and long distance moving, you have come to the right place. What separates us from others is how we communicate with our customers transparently and proactively to best serve you. We train and communicate with our team members with the same transparency. Let us handle your moving, delivery and storage needs, and discover Moving Done Right.
Connect via:
LinkedIn